Waveguide Band Pass Filters (7-36 GHz)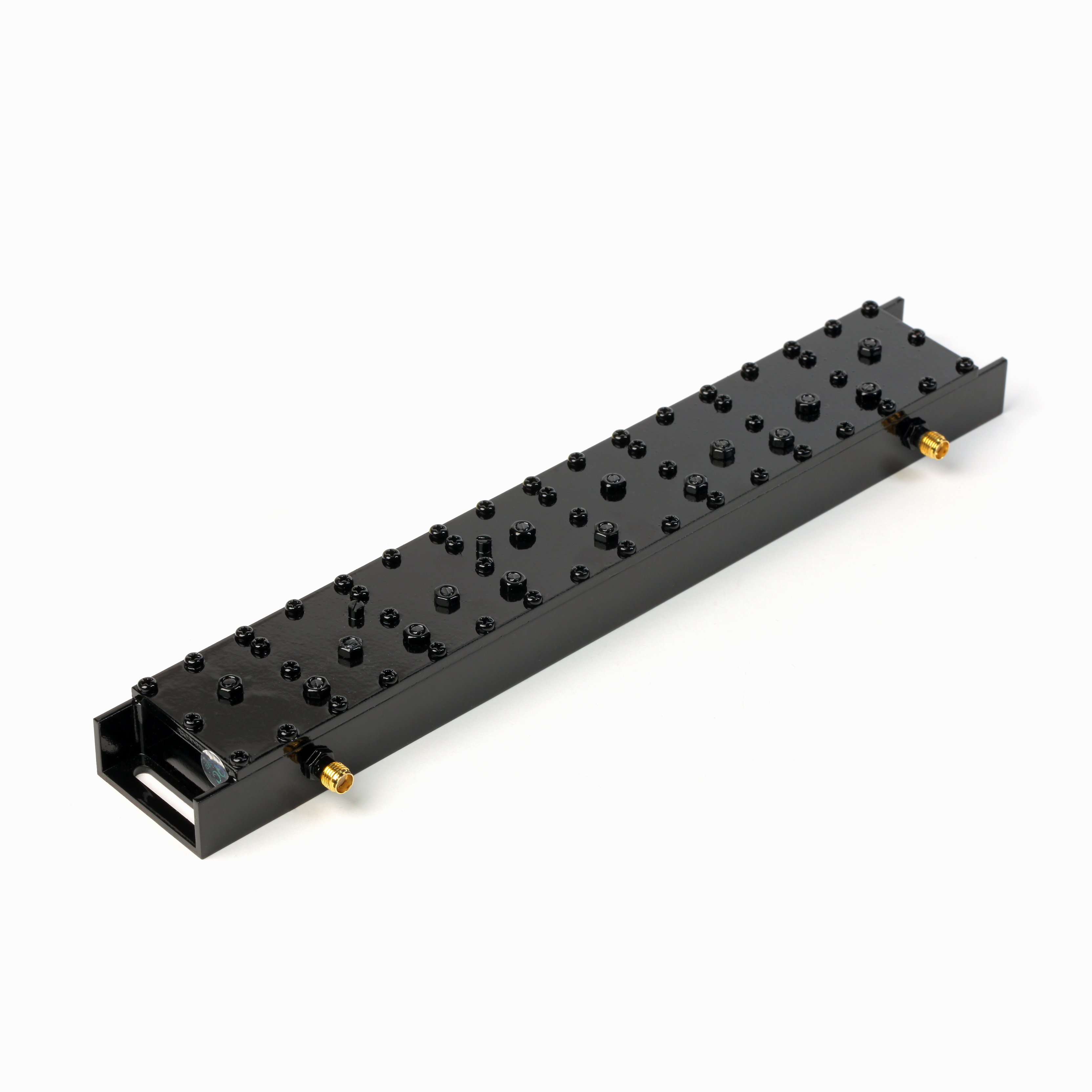 Anatech Electronics Waveguide band pass filters are available in frequencies from 7-36 GHz. The resonators and cavities are silver plated for low RF resistivity, in order to achieve low insertion loss and high selectivity. The Waveguide band pass filter size depends on performance requirements, frequency of operation, RF power handling, insertion loss, and number of sections. Anatech Electonics uses the best topology required to achieve the required performance. Our Waveguide Band Pass FIlters can be designed in weatherproof packaging for outdoor use.
We can find the Waveguide Band Pass Filter for you!
| Model | Band Width | Insertion Loss | Pass Band | Rejection (high side) | Rejection (low side) | Return Loss | Center Frequency | |
| --- | --- | --- | --- | --- | --- | --- | --- | --- |
| AE10000WB11543 | 50 MHz | 1.0 dB Max. | 9975-10025 MHz | ≥60dB @ F0±500MHz (10500MHz) | ≥60dB @ F0±500MHz (9500MHz) | 14.0 dB Min | 10000 MHz | |
| AE10000WB11552 | 125 MHz | 0.5 dB Max. | 9875-10125 MHz | ≥50dB @ F0±500MHz (10.5~12GHz) | ≥50dB @ F0±500MHz (DC~9.5GHz) | 15.0 dB Min | 10000 MHz | |
| AE10028WB5005 | 28 MHz | 1.4 dB Max. | 10014-10042 MHz | 42 dB Min @ 10056 MHz | 42 dB Min @ 10000 MHz | 18.0 dB Min | 10028 MHz | |
| AE10300WB5009 | | <1.20 dB | | | | >14 dB | 10300 MHz | |
| AE10400WB11550 | 40 MHz | 1.7 dB Max. | 10380-10420 MHz | ≥50dB @ 10500MHz | ≥50dB @ 10300MHz | 14.0 dB Min | 10400 MHz | |
| AE10400WB11551 | 28 MHz | 2.0 dB Max @ 10400 MHz | 10386-10414 MHz | ≥50dB @ 10470MHz | ≥50dB @ 10330MHz | 14.0 dB Min | 10400 MHz | |
| AE10450WB5006 | 500 MHz | <-0.5 dB | 10200-10700 MHz | 10.9 GHz | 10.0 GHz | | 10450 MHz | |
| AE13960WB11546 | 50 MHz | 4.0 dB Max @13960 MHz | 13935-13985 MHz | ≥30dB @ 14015MHz | ≥30dB @ 13915MHz | 14.0 dB Min | 13960 MHz | |
| AE14000WB11564 | 60 MHz | 2.0 dB Max @14000 MHz | 13970-14030 MHz | ≥40dB @ 14100 MHz | ≥40dB @ 13900 MHz | 15.0 dB Min | 14000 MHz | |
| AE16000WB11548 | 50 MHz | ≤4.5dB | 15950-16050 MHz | ≥60dB@ 16100 MHz | ≥60dB@ 15900 MHz | 14.0 dB Min | 16000 MHz | |
| AE16000WB11549 | 50 MHz | ≤2.8dB | 15950-16050 MHz | ≥60dB@ 16200 MHz | ≥60dB@ 15800 MHz | 14.0 dB Min | 16000 MHz | |
| AE16000WB11563 | 60 MHz | ≤2.0dB | 15970-16030MHz | ≥40dB@ 16100 MHz | ≥40dB@ 15900 MHz | 15.0 dB Min | 16000 MHz | |
| AE18000WB11562 | 66 MHz | ≤3.0dB @ 18000 MHz | 17967-18033 MHz | ≥35dB @ 18062 MHz | ≥35dB @ 17937 MHz | 14.0 dB Min | 18000 MHz | |
| AE24840WB11805 | 1000 MHz | <- 1.5 dB Max. | 24.34~25.34GHz | 50dB @ 16.5-46 GHz | 50dB @ DC-23.5 GHz | >17 dB Min. | 24840 MHz | |
| AE28800WB11559 | 500 MHz | 2.0 dB Max. | 28550-29050 MHz | ≥50dB @ 29800 MHz | ≥50dB @ 27800 MHz | 13.0 dB Min. | 28800 MHz | |
| AE30500WB5002 | 1000 MHz | 1.0 dB Max | 30-31 GHz | | ≥45dB @ 29 GHz | 12.0 dB Min. | 30.5 GHz | |